Interactive Developers Nashville: Command Line Kung Fu
Last night I presented "Command Line Kung Fu" to the Interactive Developers of Nashville group in Brentwood. I enjoyed the discussion around the Unix philosophy of modularity and how the various tools complement one another to do powerful things.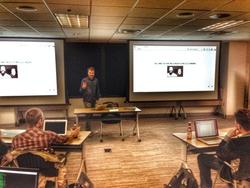 Photo by Matthew Wallace
This is a talk I've actually given a few times before with some variations.
I appreciate ID hosting me for the evening, and I hope it was useful to the attendees! Thanks to all of those that were able to make it, and thanks to my colleague Jason Myers for lending moral support.
Slides from the talk are available here. If you want to see my notes for the talk, you can press the 's' key to open the speakers notes. As usual, I used reveal.js for building the presentation itself.
---
---